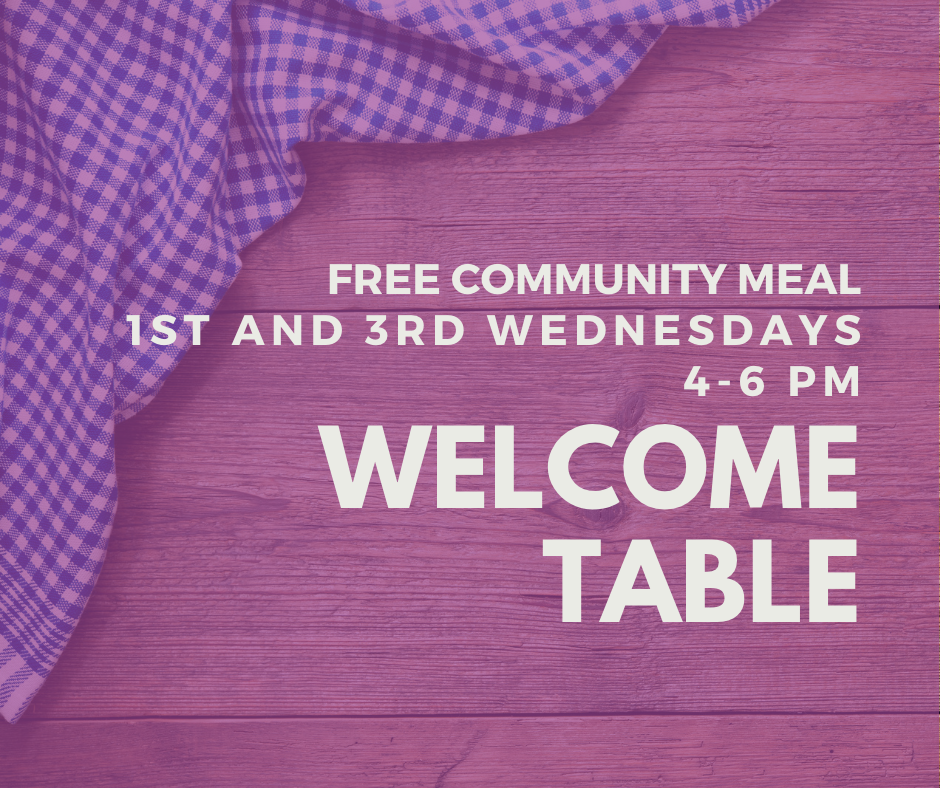 Welcome Table provides a free meal on the first and third Wednesday of the month. During the pandemic, Welcome Table is serving a to-go meal, distributed to guests from 4 to 6 p.m. outside the church building. 
We offer each guest a full-size toiletry item at the first Wednesday dinner and each adult guest a grocery store gift card at the third Wednesday dinner. 
Frequently Asked Questions
What exactly is Welcome Table?
Welcome Table began in 2011 as a once-a-month dinner to serve those in need in our community. In 2013 we expanded the program to serve a meal at the first and third Wednesday of the month. 
Who purchases and prepares the food?
The head chef or a volunteer grocery shopper purchases the food from a restaurant supplier with funds from the Mercy Ministry budget. Volunteers sign up to prep and cook the meal between 10AM and 4PM. 
What other volunteer jobs are there?
In addition to head chef and grocery shopper, volunteer opportunities include setup, utensil wrapping, meal prep, meal packaging, food distribution, cleanup, and organic waste transporter. These jobs run from 10AM to 7:30PM.
I would like to help but cannot be there physically. How else can I help?
Donations of full-size toiletry items and money for Giant Food gift cards are always appreciated. Toiletries can be dropped off at the church most anytime, and monetary donations can be mailed to the church or made online.
How are you ensuring volunteers' safety during the pandemic?
Volunteers are required to wear masks at all times. Our spacious Fellowship Hall allows for good air circulation and social distancing wherever possible.
I would like to volunteer. How do I sign up?
Sign up through our signup.com link. Once you add your name to the signup.com email list, you will automatically receive a reminder about each upcoming dinner. Simply sign up as your schedule allows.
There are many ways to get involved in the life and ministry here at Falls Church Presbyterian. Whether you are looking to join a ministry team, serve others through our Welcome Table ministry, sing in the choir or simply find a community to call home, we welcome you and hope that you will find grace, wholeness, and renewal here.