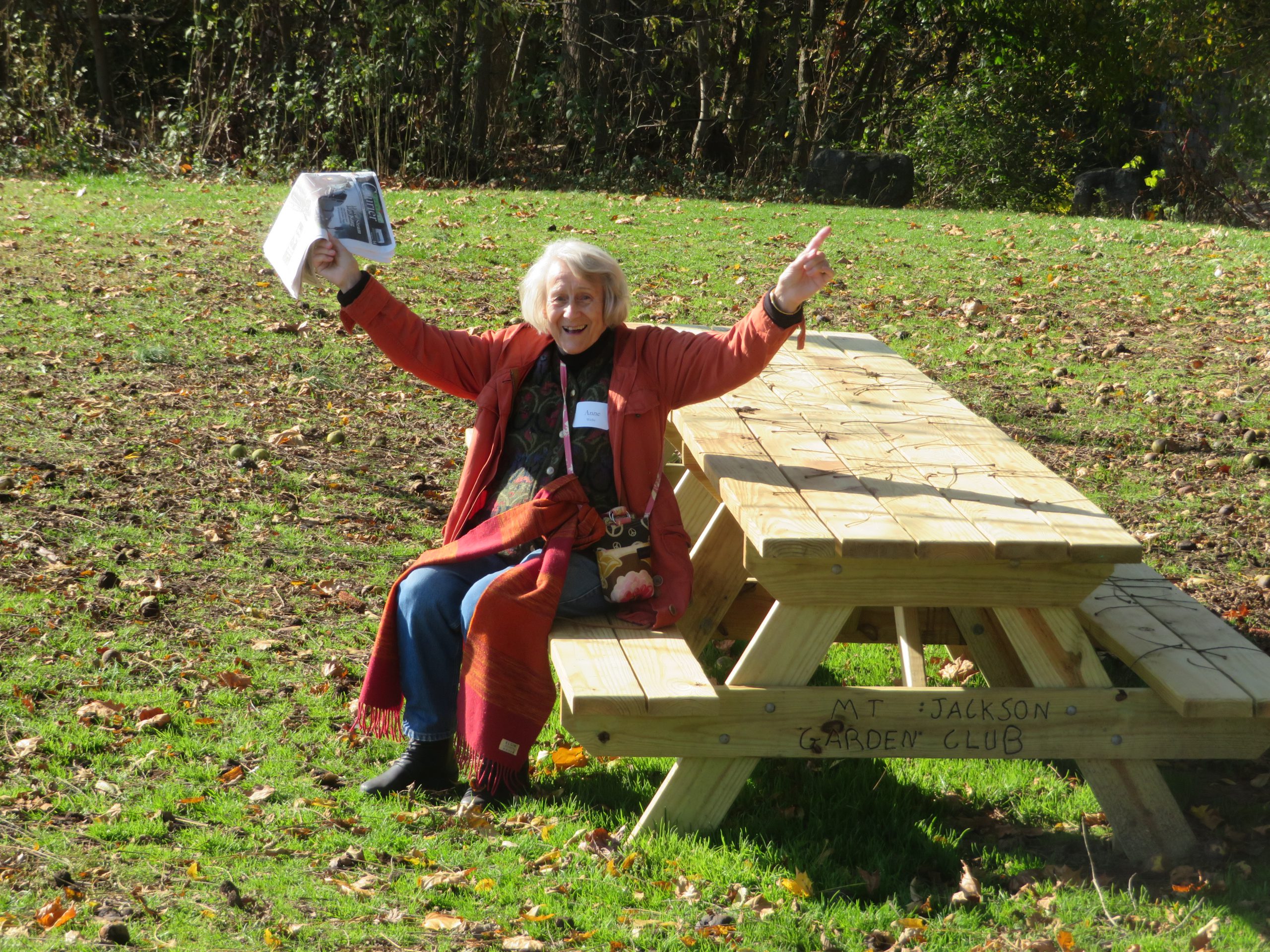 Join us for a weekend away, nestled among the trees, at the foot of Great North Mountain at Orkney Springs, VA, in the Shenandoah Valley.
It was an awesome weekend for fellowship and adventure. I loved seeing our kids bond with each other - looking at the stars, doing the zipline, and just goofing off in God's creation.
Wonderful weekend; Prayer Walk was perfect; Sunday service was so inspirational; Escape Room - what fun, even for those who did not know what an Escape Room is!
I made so many great memories with the other kids. From hiking up a hill, Truth or Dare, reliving Godly Play, and styling each other's hair, I had a blast.
As newer members of the church, it was nice to meet so many people at once.
I loved being able to sit by a fire with friends old and new.
There are hundreds of reasons why you should come. Here are a few:
Escape to the hills and celebrate the easing of the pandemic
Home-cooked meals (that you don't have to cook)
Beautiful mountains and trails
Programs for children, youth, and adults
Porches with rocking chairs
Cottages with wood-burning fireplaces
Bonfire with s'mores and singing on Saturday evening
Woodland labyrinth
Pickleball and tennis
Did we mention Escaping?
Shrine Mont is a place where people are more important than things; where rest and recreation are more important than appointments and tasks. It is a "place apart" where, having weathered the pandemic, we can connect and laugh again together, share stories, and set life down for a while. Shrine Mont is a place for all of us to play and celebrate God's abundant grace.

Shrine Mont is nestled among the trees at the foot of Great North Mountain at Orkney Springs, VA, in the Shenandoah Valley, less than two hours from Falls Church Presbyterian Church.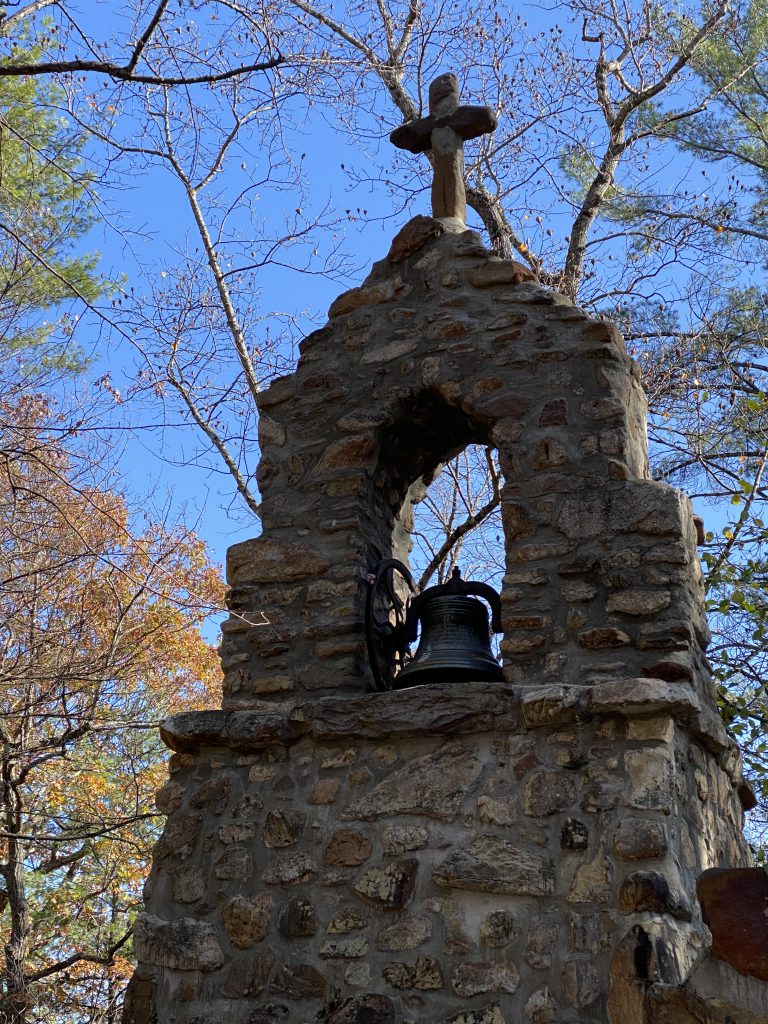 Each year at Escape Weekend, we offer programming for all ages. This year, we'll focus on God's abundant and freely given grace.
We will worship on Sunday morning in the beautiful open-air shrine, the Cathedral of the Episcopal diocese of Virginia, which owns Shrine Mont.
Lodging is in cottages reserved exclusively for FCPC use. Meals are served and eaten family style in Tucker Lodge.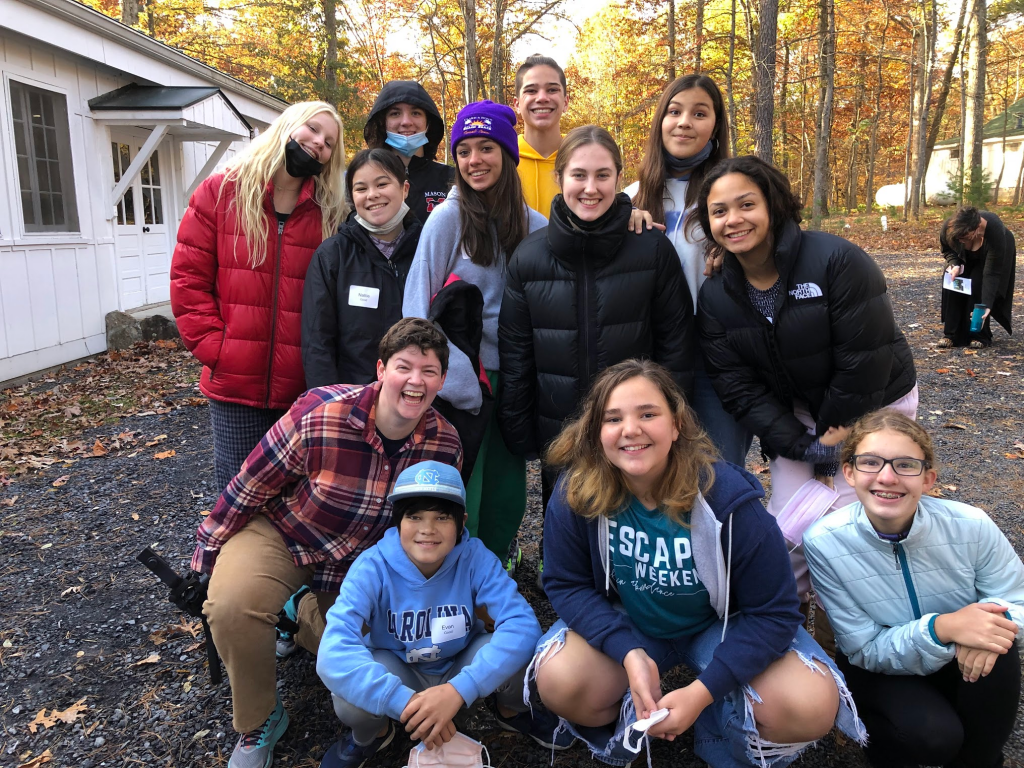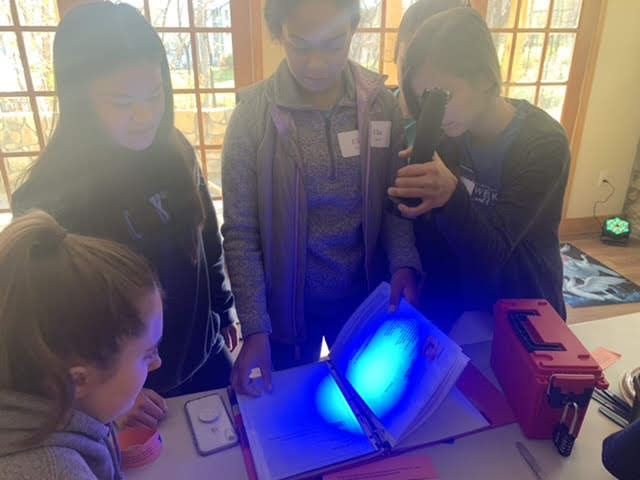 Shrine Mont has something for everyone – unless you are looking for TV! Activities include hiking, star-gazing, porch-sitting, sleeping, playing music with friends, reading, games, tennis, pickleball, walking the labyrinth, exploring the surrounding woodlands, communing with nature, and getting to know your fellow escapees better, or finding a quiet spot of your own.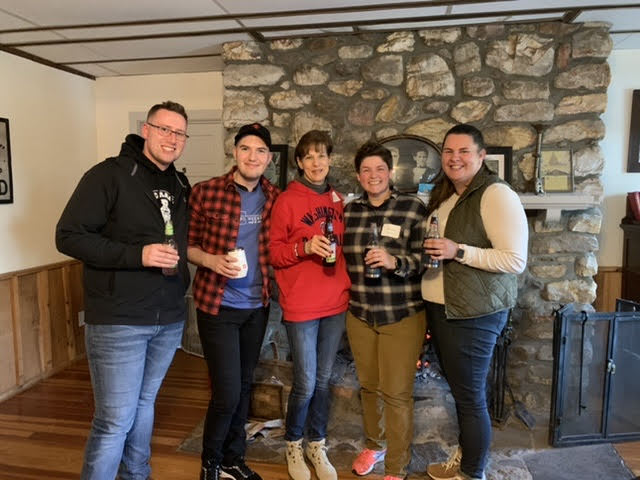 CHILDREN
Age 0 – 3: $0
Age 4 – 12: $75
YOUTH & ADULTS
Single Occupancy Room: $260/person
Double Occupancy Room: $200/person
Family Maximum Cap: $550/family
Prices include 2 nights lodging, all meals (Friday dinner-Sunday lunch), snacks, s'mores, and so much more
T-SHIRTS
Available to add on: $15/each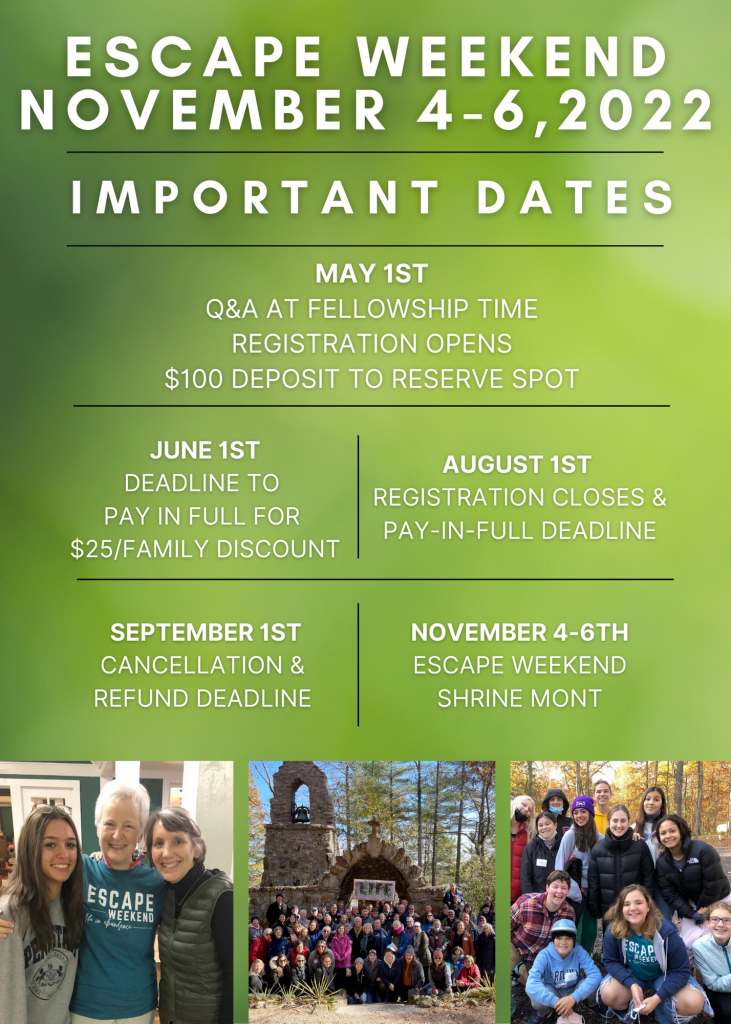 Registration is open May 1 – August 1
Reserve your place with a non-refundable deposit of $100/household
Pay in full by Wednesday, June 1, to receive a $25 discount/household
Payment can be made online or by check. For check payments, please indicate Escape 2022 in the memo line of the check and mail to: Falls Church Presbyterian Church, 225 E. Broad Street, Falls Church, VA 22046
Frequently Asked Questions
Question: Is there cell service and Wi-Fi?
Answer: Yes, if you're in the right place. Cell service is spotty at lower elevations on the grounds. Highspeed internet is available in all public buildings, but NOT in the individual cottages.
Question: Are special diets accommodated?
Answer: Yes. Shrine Mont's kitchen staff is able to provide alternatives to the regular menu to accommodate most allergies and dietary preferences. The registration form requests information about such needs.
Question: How long is the drive to Shrine Mont and how do I go?
Answer: The 110 mile commute to Orkney Springs from Falls Church via I-66 and I-81, under ideal circumstances, is under two hours, but with construction on I-66, conditions are rarely ideal. On a Friday afternoon in early November, expect a 2¼ to 2½ hr. commute. The earlier you leave town the better. Directions are provided in the Escape Weekend 2022 information booklet.
Question: Can I get rid of all the books I read during the pandemic?
Answer: Absolutely! Bring them to the FCPC Book Exchange. Drop them off when you check in on Friday.
Looking for more information about Escape?
Contact Marnie Sarver
Specific questions about registration or payment?
Contact Mary Salpini
There are many ways to get involved in the life and ministry here at Falls Church Presbyterian. Whether you are looking to join a ministry team, serve others through our Welcome Table ministry, sing in the choir or simply find a community to call home, we welcome you and hope that you will find grace, wholeness, and renewal here.